Our director, Enrique Alvarado in his early years of performance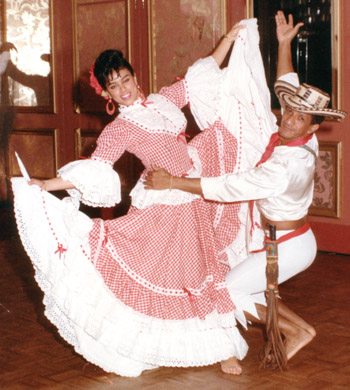 Started his formal studies in 1959 at the Popular Culture Institute, in Cali, Colombia. He remained there for two years, subsequently; he goes on to integrate the folkloric group Estampas Negras, directed by the choreographer Santiago Caicedo.

In 1968 he joined the company Ballet of Colombia, where he became the lead dancer. After a four-year tenure in the ballet, he traveled to Venezuela where he danced for Danzas of Venezuela directed by Yolanda Moreno.
In 1974 Enrique Alvarado traveled to Europe where he exposed himself to other forms of dance. There he studied Spaniard dance.

In 1978, he became a member of the Apollo Theater Group with whom he toured several cities of France, Switzerland, and Germany. In 1982, he arrived to New York. Here he studied jazz dance forms in the academies of Phil Black, and Steps. In 1987 he became the choreographer of Club Barranquilla.

On January11, 1992 the Colombian Folkloric Ballet of New York Estampas Negras was founded by Enrique Alvarado, now the current Choreographer and Director. Estampas Negras has been invited to perform in several events through out the State of New York, New Jersey and Connecticut.